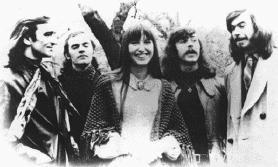 Ten Man Mop or Mr. Reservoir Butler Rides Again
Steeleye Span
Pegasus PEG 9 (LP, UK, December 1971)
Produced by Sandy Roberton for September Production, Ltd.
Musicians
Maddy Prior, vocals, spoons tabor;
Tim Hart, vocals, dulcimer, guitars, organ, five string banjo, mandolin;
Peter Knight, vocals, fiddle, tenor banjo, mandolin, timpani;
Martin Carthy, vocals, guitar, organ;
Ashley Hutchings, bass
Original Sleeve Notes and Texts
Gower Wassail
Head up for power … a viol, a serpent and a big brass drum … a bowl, a bough and a puff of frozen breath … Phil Tanner, a stick and a pooch … a Telecaster, a Mustang and a Boosey & Hawkes tabor.
Jigs: Paddy Clancy's Jig / Willie Clancy's Fancy
Mix well and do it fast … Hastings, September 14th, 1971, Bill Hart's jig R.I.P. … let's walk to Manchester, 1-2-3-4 … sure Michael Coleman's fast but he double tracks - puts the fingerring on first and the bowing on afterwards … Sean mor chief fidil.
Four Nights Drunk
Another side of the coin … a lightbulb in a chamber pot I've never seen before … anyone who doesn't want to know the tune title don't ask Mick Moloney … the recording debut of Marcus Robertson … there's no horns on the Dubliners.
When I Was on Horseback
Another young man cut down in his prime … tasted and wasted … sickness and diseases pull you down … Oh and it's Mary Doran crooning her way into our hearts … O'Riordan's song in the snow flurries … the First tentative step - in which Peter is given his head.
Marrowbones
Or "Gullibility rewarded by a ducking" … or "The pact between the doctor and the butcher" … or even "The saga of who plays the mandolin" … blindman awarded both ears and the tail … ¡ole!
Captain Coulston
Pirates nonplussed, Brigid Tunney declared Queen of Hearts … celebrating again, this time with a slip jig … next year we're going to Blackpool … memo to Martin - next time use the Strat.
Reels: Dowd's Favourite / £10 Float / The Morning Dew
Play an Air! … Co. Sligo, Fulham Broadway. Play an Air! … The player does not call the tune. Play an Air! … "Duffy the dancer", "The Boys of Forest Hill". Play an Air! … Give us your favourite tune next, Now! … Play a bloody Air.
Wee Weaver
A Patchwork fragment … Paddy be easy, Brigid be calm … a roll-up, a drink and a conference … Maddy and a shawl - Silas Marner crouched at work.
Skewball
2/1 Creeping Jane, 9/4 Skewball, 8/1 Miss Portly, 10/1 Bar … Arthur Marvel up 1,210 guineas, Sir Ralph Gore down 750 guineas … Kildare 4 votes, Kielder 1 vote … Bert Lloyd 7 points, Peter, Paul & Mary and John Herald 1 1/2.